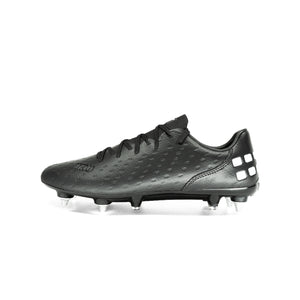 TRU
TRU TENACI - Soft Ground - Black
Sale price Price $295.00 Regular price $350.00 Unit price / per
Foot and footwear
become one.
The complete system, to maximize performance.
Every pair of TENACI includes a pair of TRUSOX to complete the fully locked-in system.

Insole Tech
The secret to the TENACI is our unique patented insole technology which works by applying nano-fiber materials to the Insole.

The patented interlocking system inside the TENACI creates a seamless interconnection of material layers which locks the floor in place without any internal movement in the footwear.  When worn with TRUSOX, we have created a unique system which removes any slippage from the bare foot to the ground, creating unrivaled stability without compromising comfort or weight.
By removing slippage at any point in the chain of materials from foot to ground, no energy is lost so you can perform at your maximum ability.
Upper
We didn't stop at our unique internal grip system, we have also designed a 4 layer knitted upper which focuses on fit, feel and form.  No break-in period and maximum instant comfort that fits to your foot immediately.  All with a special coating to protect the lining from the elements. 

Soleplate & Weight
Add to this, we have used cutting edge materials to develop an incredibly light yet strong outsole.  The result, one of the world's lightest and most secure football boots on the market.

TENACI Soft Grounds come with 1 set of 13mm replaceable studs and one set of 11mm replaceable studs.